CHANEL PRICE INCREASES EXPLAINED
The price hikes which have gotten bag lovers talking (and stressing) seem to show no signs of stalling. So, what's behind the rising cost and what does it mean for Chanel fans old and new?
March 02, 2023
When Coco Chanel released her first-ever flap bag in February 1955, named the 2.55 owing to the month and year of its launch, it cost $220. Over 65 years later, Chanel's flap bag designs are worth thousands with prices rapidly accelerating over the past decade.
The brand recently introduced a quota system allowing customers to only purchase a maximum of two Classic Flaps per year. These factors combined with continuously rising demand have made pre-owned Chanel bags more popular on the resale market than ever before with styles praised for being lucrative financial investments.
Chanel price hikes have been relentless. In 2021 alone, the house increased its prices three times. And last year, the cost of a brand new Chanel Classic Flap rose around 9%. So far in 2023, prices have risen again with the cost of many popular styles jumping between 10% and 19%.
We take a closer look at Chanel's price increases, the styles affected the most and how best to invest in the beloved Parisian maison.
Classic Flap
The fan-favourite Chanel Classic Flap is undoubtedly the best investment option when it comes to Chanel bags. A true house icon since it was designed by Karl Lagerfeld in 1983, the design's popularity has continued to grow. Owing to its cult status, the Classic Flap has experienced price hikes more than most other Chanel bags.
At first, the rising costs caught shoppers off guard but now the label's devotees have grown wise to the increases and regularly try to predict when the price of bags will rise and how much. Each time a new wave of price hikes occur, Chanel fans are sent into a frenzy, creating even more press coverage and hype for the brand.
While the iconic style from the Parisian powerhouse has always been considered a top-tier luxury piece, it's traditionally been viewed as more attainable than designs from other heritage labels. Throughout much of the 2010s, the Classic Flap occupied a price point around the £3,000 mark. But in the past decade, the cost of the fan-favourite design has skyrocketed. This year, the price of a Chanel Classic Flap has increased by between 13% and 15%, meaning that, as of March 2023, the medium size costs £8,530.
Thanks to an increasingly limited supply and an ever-growing demand, the Chanel Classic Flap has developed a reputation for being ultra-exclusive. Its investment potential is growing closer to the likes of the Hermès Birkin and Kelly bags. Naturally, this means that Classic Flaps are bigger on the secondary market than ever before. In the past, price hikes of the brand new Classic Flap have caused the cost of pre-loved styles to jump. Since another price increase has just occurred, the bag's resale value is set to rise imminently. So for shoppers wanting to buy vintage Chanel or invest in newer pre-loved Chanel styles before prices on the secondary market rise, now is the perfect time to do so.
"Pre-owned Chanel bags are more popular on the resale market than ever before."
Inez & Vinoodh via British Vogue
2.55 Flap
The original Chanel 'It' bag, the 2.55 Flap has been around for almost seven decades and has undergone a pretty crazy price hike completely outweighing the rate of inflation. Steeped in handbag history, the 2.55 Flap was revolutionary upon its release. As the first-ever bag designed to be carried over the shoulder, it helped usher in a new era of style for women and joined the tweed suit and slingback pumps as part of Coco Chanel's very own fashion uniform.
Karl Lagerfeld reissued the bag in 2005 to celebrate its 50th anniversary. With the distinct Mademoiselle turnlock and metal-link chain serving as a reminder of Chanel's refined elegance, the bag became a hit once more, garnering legions of new fans.
Akin to the Classic Flap, the 2.55 has seen its fair share of price hikes. It's traditionally occupied a similar price point to the Classic Flap and its price has risen at a similar rate. Today, a brand new 2.55 Flap bag costs £8,530 after rising significantly in recent years.
Edward Berthelot/Getty Images via Bloomberg.com
Chanel price increase 1955-2023. Based on average price of Chanel flap bag.
Boy
Another Chanel treasure that's fallen victim to price rises is the Boy bag. Named after Coco Chanel's first love Boy Capel, the coveted style was introduced by Karl Lagerfeld in the house's Fall/Winter 2011 collection and became an instant classic. Like all classics, its cost on the first-hand market has increased significantly. In 2023, the price of the style has risen between 11% and 19% depending on the size.
Despite this, prices of Chanel Boy pre-owned designer bags remain reasonable, offering a less pricey alternative to the Classic Flap. For shoppers eager to invest in pre-loved Chanel, the Boy bag is an increasingly desirable option.
Getty Images via Harper's Bazaar
Top-Handle Bags
Chanel may be best known for pioneering the shoulder bag style but that doesn't make its top-handle designs any less enticing. Mini top-handle bags became a favourite on Karl Lagerfeld's runways for Chanel in the 1990s and these charming styles are now sought after as treasured collectibles. Often complete with gold-toned hardware and sporting the maison's iconic CC insignia, these top-handle designs fitted the opulence and ornate detailing which became a hallmark of Chanel's shows during this era. They have since become a firm-favourite for those wanting to buy vintage Chanel on the pre-loved designer bags market.
In the 2010s, Lagerfeld introduced several top-handle designs which have since become coveted Chanel classics. Occupying a lower price point than the label's long-time fan-favourite shoulder bags, these top-handle styles quickly gained widespread popularity amongst handbag devotees thanks to their new functionality-focused designs and slightly more reasonable price points. But price increases have befallen Chanel's new top-handle designs too with some of the house's most popular hand-held treasures experiencing significant cost hikes in recent years.
Take the Trendy CC. First released in 2014, the top-handle design features a boxy structure and accordion-style opening meaning there's plenty of room for your essentials and more. A Chanel engraved metal plate sits atop the flap for a sophisticated finish while a leather woven chain strap offers maximum functionality. The price of the Trendy CC is on the rise, jumping around 9% in the last year alone.
The Chanel Coco Handle is another sought-after hand-held design that's popped up in recent years. Introduced in 2015, the Coco Handle champions Chanel's most beloved design features, from the iconic CC logo turnlock and signature diamond quilting to the leather woven chain strap. But one of the bag's most standout characteristics is the distinctive sturdy top handle. Despite traditionally being one of Chanel's less expensive styles, the Coco Handle has been impacted by several rounds of price hikes with the cost of buying the style brand new rising by around 10% to 12% in 2022.
Chanel's current Creative Director, Virginie Viard, also added a top handle to the house's beloved Classic Flap silhouette for Spring/Summer 2021. The new look combines the ease and simplicity of Chanel's iconic oblong flap style with the elegance of a top-handle bag. Akin to the original Classic Flap, these new top-handle iterations have seen their price shoot up, rising by between 8% and 13% just this year.
In the era of Chanel price hikes, rising costs are becoming a clear indication of a style's popularity. And naturally, this has a huge impact on luxury resale. The market is currently seeing an influx of pre-owned Chanel top-handle styles and demand for these hand-held designs is steadily rising.
Rare Runway Designs
Karl Lagerfeld's runway shows for Chanel were the stuff of legends and helped cement the maison's standing as a high fashion frontrunner. From Cruise 2019 featuring an ocean liner docked inside the Grand Palais, to models walking around a life-size Chanel rocket ship at Fall/Winter 2017, Chanel shows have notoriously been extravagant events wowing onlookers. The house typically releases runway exclusives and novelty bags in each collection. The designs become rare collectibles and are incredibly hard to get a hold of causing prices to skyrocket.
Our favourites include Lagerfeld's viral Spring/Summer 2013 Hula Hoop bag which swapped a leather-threaded chain strap for a literal hula hoop, along with the designer's Shopping Basket bag from his Fall/Winter 2014 collection set in a supermarket. The prices of both bags along with other Chanel runway collectibles have shot up on the pre-owned market and will remain high thanks to their ultra exclusivity.
"The prices of rare collectibles skyrocket."
Imaxtree via Yahoo Lifestyle
Limited Edition Shopping Basket Bag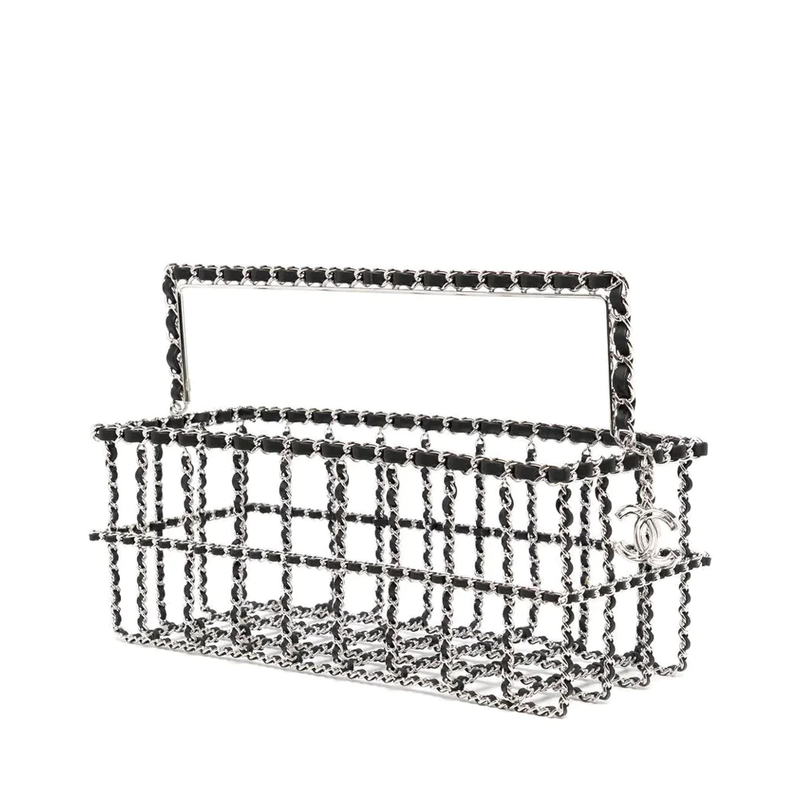 Chanel price hikes are now something fans of the maison have come to expect. While rising costs of styles across the board have been rampant over the past few years, the demand has only increased. Prices of the popular Classic Flap and 2.55 styles continue to be high on both the first-hand and secondary markets meaning that, despite requiring a larger investment, they remain wise luxury purchases. The cost of designs like the Boy bag and Chanel's cohort of top-handle favourites has shot up dramatically in a short span of time however pre-owned Chanel versions of these bags can still be found for significantly lower prices. The maison's prices are set to continue climbing so, if you're eager to lock down your dream bag, it's best to invest today.