CUSTOMIsATION
The Story
The spirit behind the concept is to celebrate the diversity that makes each of us unique, but in an interesting way and by visual means. We do this by mixing fashion, art, and out–of–box ideas to express your character–defining differences. From lettering to a full custom art spread, and everything in between; we will work with you to customise a product to your exact vision.
Who Are We?
We are a team of art and fashion-forward individuals, passionate about executing and delivering a bold vision. We've come up with a new way to help you rock your individuality with pride, by introducing customisation and monogramming services. This means you can turn any piece into inimitable, one-of-a-kind, works of art, by having a design or your initials custom–painted on them. You're welcome to bring your own or choose from one of our bags.
Why Us?
With over 10+ years of fashion, art, and manufacturing experience, your item is in expert care. We pride ourselves on personalised customer service and excellent craftsmanship, culminating in turning your goods into one-of-a-kind luxury items; in a seamless, pain-free, and timely manner.
FAQ
WHICH ITEMS CAN BE CUSTOMISED?
Wallets / Handbags / Travel Bags / Suitcases / Shoes / Jackets
WHAT IS THE TURNAROUND TIME?
Minor artwork such as lettering and stripes can be completed in one to two weeks from mockup approval. Larger customisations take up to 2- 3 weeks unless specified differently.
CAN ARTWORK BE REMOVED?
We can remove old artwork and initials by painting over the old one. Once the artwork is applied it cannot be removed.
HOW IT WORKS
Minor artwork, such as lettering and stripes can be completed in one to two weeks from mockup approval. Larger customisations take up to 2- 3 weeks unless specified differently.
SHIP YOUR ITEM
Send in your own accessory by mail or courier. Our artists will then expertly personalise it according to your brief and return the finished product via FedEx or DHL.

Outside of the EU clients can send their own accessories by mail or courier. You are liable for the cost of shipping (to the UK) and insuring the item is up to its desired value. REWIND will then return the finished item via FedEx or DHL.
CHOOSE A DESIGN
You are free to choose an existing REWIND design, with the option to have it personalised further to your wishes. Alternatively, elements of existing designs can be put together for a "mix n match" style. New designs can be created from scratch or with your input, inspired by familiar and iconic imagery, or completely personalised.
Monogramming: This permits you to have your initials or name personalised through imagery painted by REWIND. Rights to all designs upon completion remain the intellectual property of REWIND.
GUARANTEES
The standards of REWIND's painting and the quality of materials used mean the art will last, but you should treat the bag with the utmost care as it now includes valuable and unique custom artwork. We use specially tested leather colours from leading world manufacturers. While all bags are subject to wear and tear, the artist is not responsible for the art once it is returned to you.
APPROVE YOUR ARTWORK
We will create a visual mock-up of your new bag and, subject to your approval, we will proceed with painting. Please note: we are unable to paint any designer logos and are not affiliated with any brands we sell or personalise.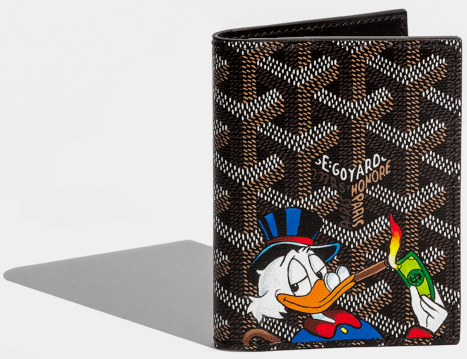 PRICING
Pricing will vary depending on the size of the accessory and the complexity of the design. Upon agreement of the design and receiving a 50% deposit, we will send a PDF rendering of the customised handbag. Once the artwork is approved, you can send the item, and the customisation work can begin. PayPal, Credit Card, or International Bank Transfer are all acceptable forms of payment. Once payment is received, it is non–refundable.